Congratulations to Ron Howell (Gentle) who was awarded a Dearnley medal at the recent AGM and had it officially presented to him on Wed 21st June Geelong Branch meeting. Gentle has worked tirelessly for the Ulysses Club and the Geelong Community. A great honour that is very well deserved!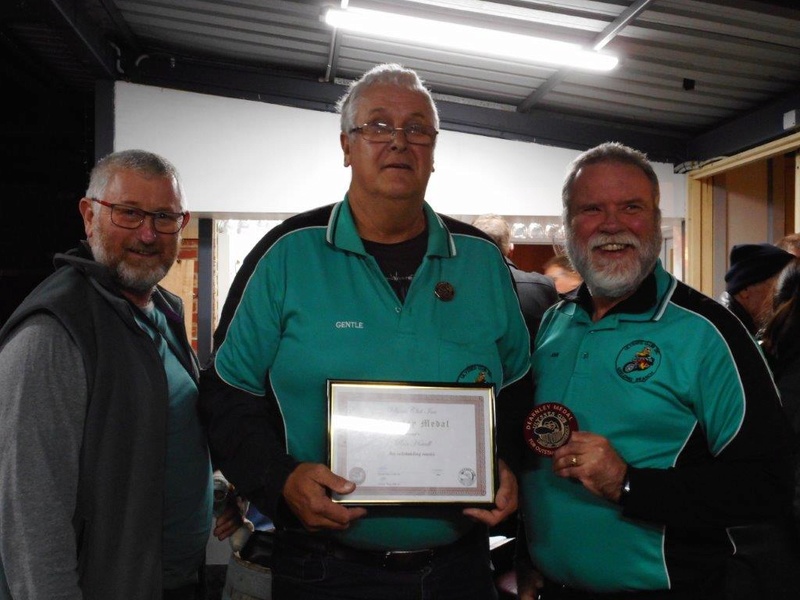 What's the Dearnley Medal?
From the Ulysses National website
The idea to recognise members who consistently provided meritorious  service above and beyond the norm, was introduced in February 1998 and announced to members at the Annual General Meeting that year. It goes without saying that the award was named after "Old Number 1", Stephen Dearnley, who with his group of friends, took the steps in establishing our wonderful Club in 1983.
The first Dearnley Medal was awarded to Margaret French in 1998 and since then, a total of 49 [
sic
] (it must need updating)  members have been recognised by their peers at Branch level as being worthy of this award. The following is a brief description of the Ulysses Club Members who through their generosity of spirit and dedication to their fellow members, have earned the Dearnley Medal. Details about the Medal and the criteria, can be found in the Guidebook for Members, and on the National Website.

Jules Pearce





well done Gentle and well deserved award for you, cheers stewart

Stewart Beveridge





Thanks Stewart, it was a complete surprise to me.


Ron Howell






---
Permissions in this forum:
You
cannot
reply to topics in this forum